Custom Coach Profile: Marathon Coach #1366
Marathon Coach #1366 — dubbed the American Flag Coach — is the epitome of Marathon's artistic talent. It's an example of what happens when an ambitious owner puts his vision into the hands of Marathon's designers, painters and engineers. Graphic Artist Sara Fideler was presented a challenge with this coach: to emulate the owner's custom motorcycle. From the hand painted eagles to the waving flags that grace the sides of the coach, Marathon's paint department flawlessly executed Sara's design. For the inside, the owners wanted a rustic and barnwood feel. Filled with both warm and cool browns, the leather-touched interior — curated by Interior Designer Alan Christianson — perfectly complements the ivory Corian countertops. Rich, chocolate leather couches and chairs, built from scratch and covered by Marathon's upholstery department, create a luxurious place to sit and entertain.
A desk in the salon has a pop-up monitor with extra leg space and a hidden keyboard tray. A custom backlit art panel hides a deep pantry, and matching illuminated panels grace the shower and water closet. A second toilet in the bedroom closet features an upholstered seat and a makeup mirror, which allows the primary water closet to be available should a makeup session in the back run long. The owners also wanted an occasional sink in the bedroom so the primary water closet's sink could always be available if needed. Between the incredible paint and the beautifully rustic and comfortable interior, Marathon's designers and engineers truly thought of everything when they and the owners planned this incredible coach.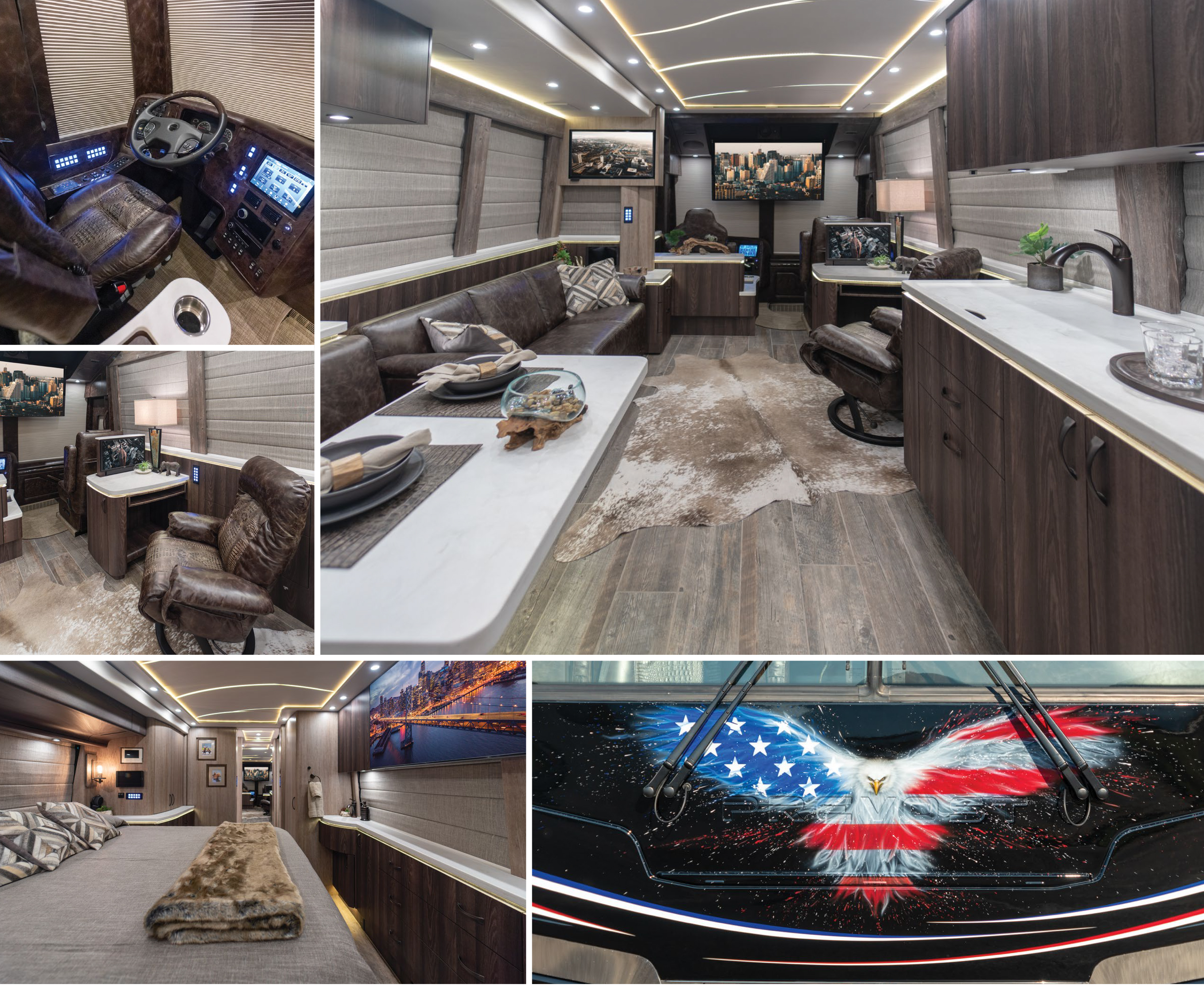 ---