Marathon Coach Oregon: Headquarters and Factory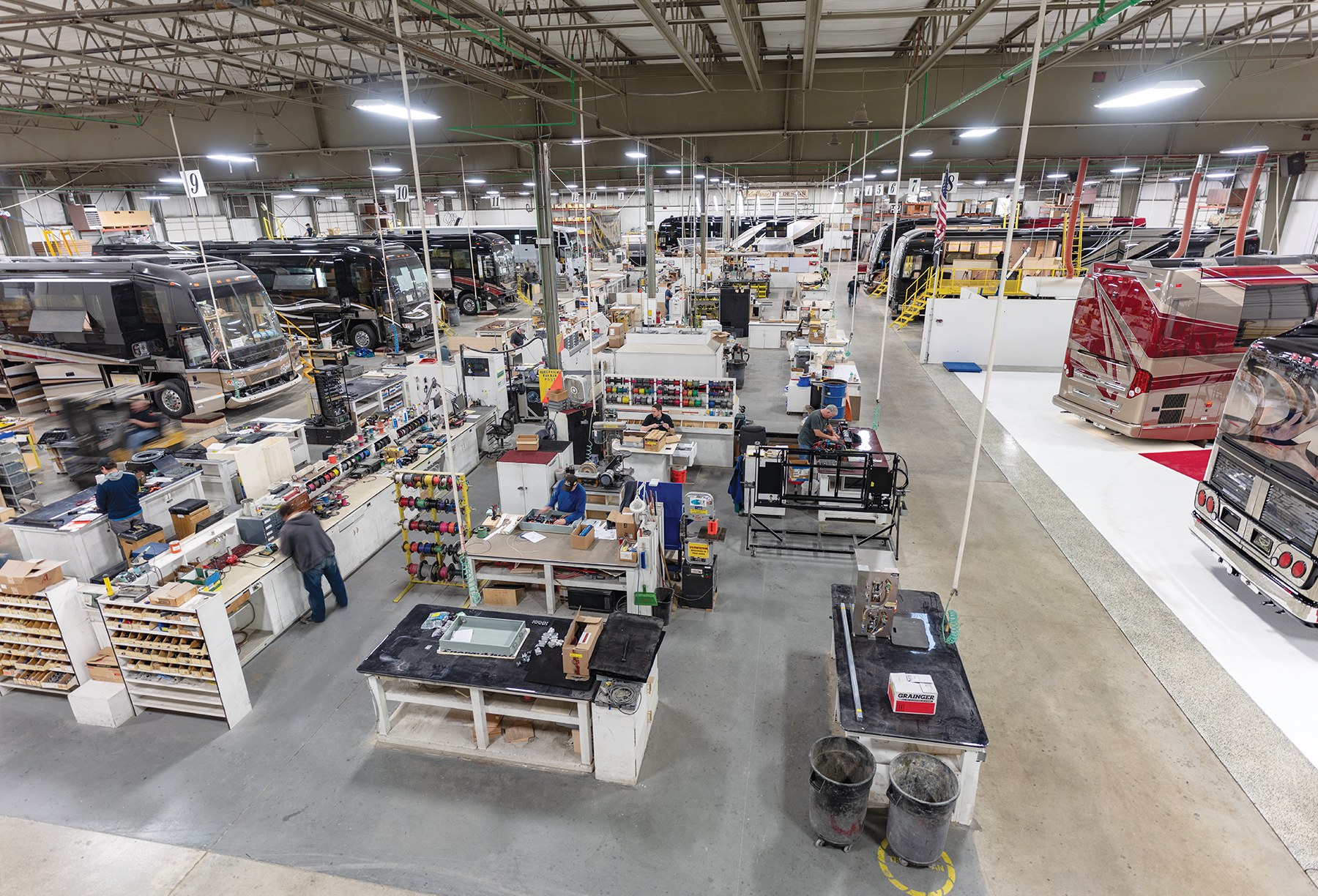 The world's largest luxury bus converter, both in numbers produced and facility size, Marathon Coach takes pride in our workmanship, craftspeople and clients. Since 1983, family-owned Marathon Coach has produced more than 1,300 bus conversions for customers across the globe.
"I love how open/transparent we are – there isn't an area of the plant that customers are not welcome to walk through and see," said Interior Designer Brenda Kraft. "To me that translates to how proud we are of our product and our team: We build with quality materials that we don't need to hide, and our talented team treat customers with gratitude and respect. In customer design meetings, we often need to visually explain a decision point; so we all go downstairs to look at a detail. Every time, even though the bus may be swarming with employees hard at work, they will stop, smile, turn off the saw and welcome us into the coach."
There's much to explore at our custom-designed World Headquarters, a manufacturing, sales and service facility located in Coburg, Oregon, just north of Eugene, conveniently off I-5. With 35 bays, this facility is built on 17.5 acres with approximately 160,000 square feet of production space, housing the specialized interior design studio, engineering hub, cabinet production, full-service exterior paint shop with four paint booths, upholstery department, a nine-bay service center, extensive parts operation, composites and fabrication, metal working, solid surface counters, glass and mirrors, marketing, sales and headquarters operations.
The perfect setting for big ideas, 2019 marks the company's 25th anniversary at Headquarters. The innovative vision for this comprehensive hub stemmed from Robert (Bob) Schoellhorn, former Owner. Bob purchased his first Marathon Coach in 1991 and very soon after invested in the company, deciding to build a world class custom facility that would house all departments under one roof. When it came time to plan a facility, his intention was simple: Provide a place that allowed the growing team of employees to work together at one, state-of-the-art creative hub.
Before this big move, Marathon Coach's original location, at 5th Avenue and Bertelsen in Eugene, Oregon, housed approximately 20 employees in 1983. In the fall of 1988, Marathon moved production, interior design and additional offices to a new location close by at 1st Avenue and Bertelsen, leaving the service center and paint department at the original location. Although this move provided some much needed space for the growing
organization, it divided the teams.
"To me, the thing that stands out most in our production facility is our family atmosphere," said Service Manager/Paint Division Manager Chris Welch. "We are in this together and there for each other. Our customers often comment about the courtesy they are shown by employees when they tour our facility. It's easy to spot the mutual respect there, as well as the genuine friendships that form over time. And I also hear plenty of comments on the cleanliness of our facility."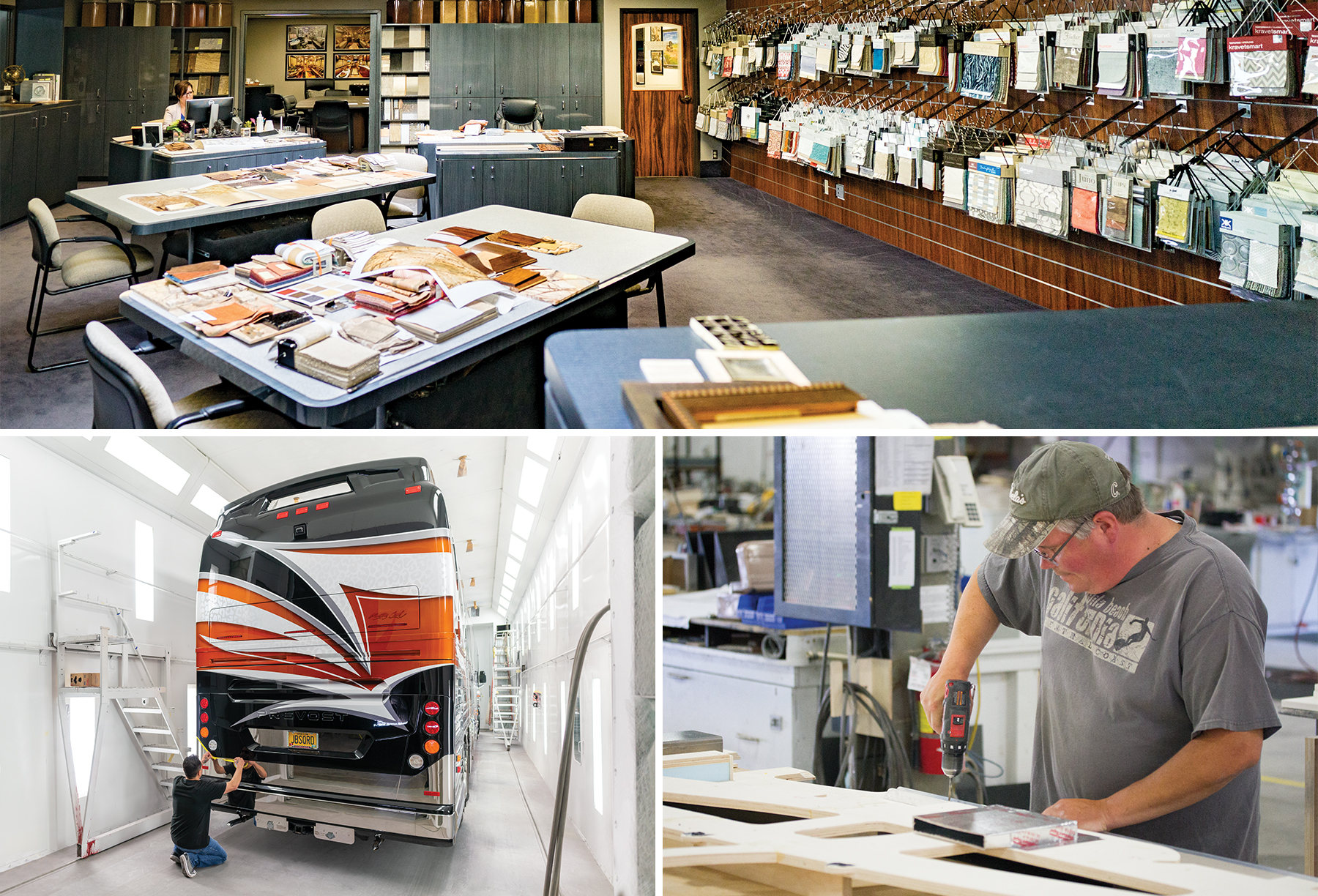 Although answers varied when employees were asked what they most appreciate about working at Marathon Headquarters, a central theme emerged: The vast amount of long-term employees said they value the world class facility where they can perform their respective crafts. From exemplary lighting in the work stations to investing in professional training to providing a large break room with a well-stocked mini market to cutting edge equipment, Marathon makes its team a priority. Of course, when clients were asked what they most appreciate about the "Camp Marathon Coburg" home base, the answers were equally diverse, including on-site camping to company transparency to Marathon's willingness to take on challenges, transforming ideas into reality and more.
Marathon invites you in for a factory tour to take a look behind their walls: No reservation necessary. Marathon also welcomes you to visit our two other sales and service facilities: Marathon Coach Florida, opened in 1994 in San Antonio, near Tampa; and Marathon Coach Texas, opened in 2006 in Grand Prairie, near Dallas/Fort Worth.
---