Certified Pre-Owned Program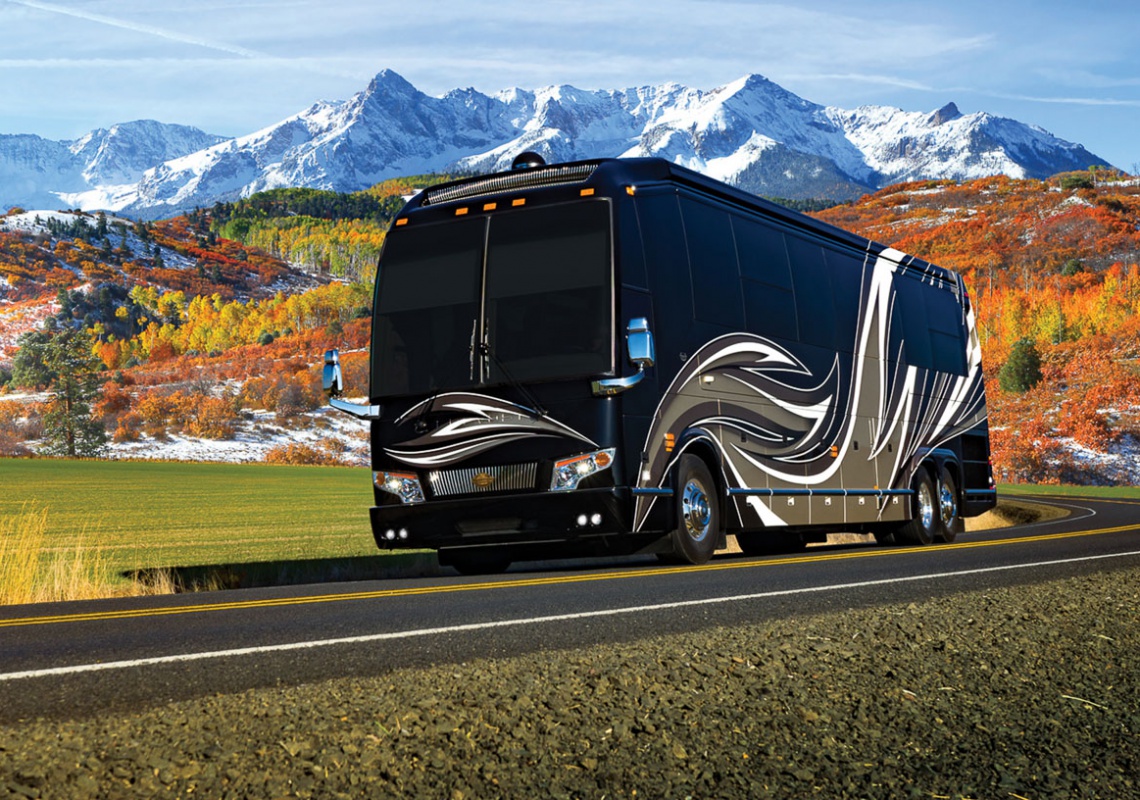 With a bus shell and chassis designed and engineered to go well over a million miles, Marathon coaches are built to last. All Marathon pre-owned coaches carry the premium quality the brand is known for: superior mechanical features, outstanding engine performance, exceptional drivability, leading edge technology, fit/finish and stellar customer service.
"Similar to pre-owned yachts and pre-owned aircraft," said President and Owner Steve Schoellhorn, "pre-owned Marathons are an exceptional value. And with a chassis built to travel more than a million miles and Marathon's remarkable craftsmanship, at 60,000 miles coaches are considered just broken in. Choosing a luxury bus conversion should be enjoyable and satisfying whether you buy new or pre-owned, which is one reason why our pre-owned coach program is a high priority to us. Providing peace of mind through the certified pre-owned program ensures you can focus on what's truly important – selecting a coach that perfectly suits your priorities and lifestyle."
The Benefits of Purchasing a Certified Pre-Owned Coach:
Specified coaches in the Certified Pre-Owned program come with a Limited Six-Month Warranty
Rigorous reconditioning certification
Exceptional resale value
Personalized customer service
Durable commercial Prevost bus chassis
Classic designer styles and materials
Superior craftsmanship and reliability
When taking possession of a pre-owned coach through trade-in, Marathon team members put forth tremendous effort to recondition the vehicle so it's like new for the next owner. The process begins with a rigorous and detailed inspection. Any issues are identified, addressed and resolved. The interior and exterior are thoroughly detailed, giving the coach a fresh, striking appearance.
In addition, many Marathon pre-owned coaches come with a six-month warranty. Not only does this make all of Marathon Coach's resources available to the new owner, but the warranty often gives a client who is considering the purchase of a new, high-end Class A motorhome the confidence to take their purchase to the next level and acquire a luxury bus
conversion instead.
"Motorcoaches that are consigned for sale with Marathon go through the same rigorous certification program as the trade-ins," said Marketing Manager Pete Sutton. "Concerns and/or repairs are worked out with the coach owner before going up for sale. You can rest assured that they are standing tall and ready for the road when you take delivery."
For more information on Marathon pre-owned coaches, other inventory or to learn more about the difference between a high-end Class A RV and a bus conversion, visit Marathon's website at www.marathoncoach.com, contact Marathon's concierge at [email protected] or call one of the three nationwide locations: Marathon Coach Florida at 800-437-8295; Marathon Coach Texas at 800-448-8881; or Marathon Coach Oregon at 800-234-9991.
---