Freedom Plus System: Powerful, Convenient and Reliable
Marathon intentionally designed its patented Freedom Plus automated sewer hose system to tackle one of the dirtiest jobs in the vehicle, and it couldn't be easier to operate. This innovative system, which has been featured since Marathon Coach #0744, has push-button controls that open a drop door that dispenses the shore cord and sewer hose to the appropriate shore power hook-up and drain receptacles, so users have minimal interaction with either. Marathon's engineers designed this exclusive plumbing bay to not only improve the reliability of the system, but to also make it as convenient for coach owners to operate as possible.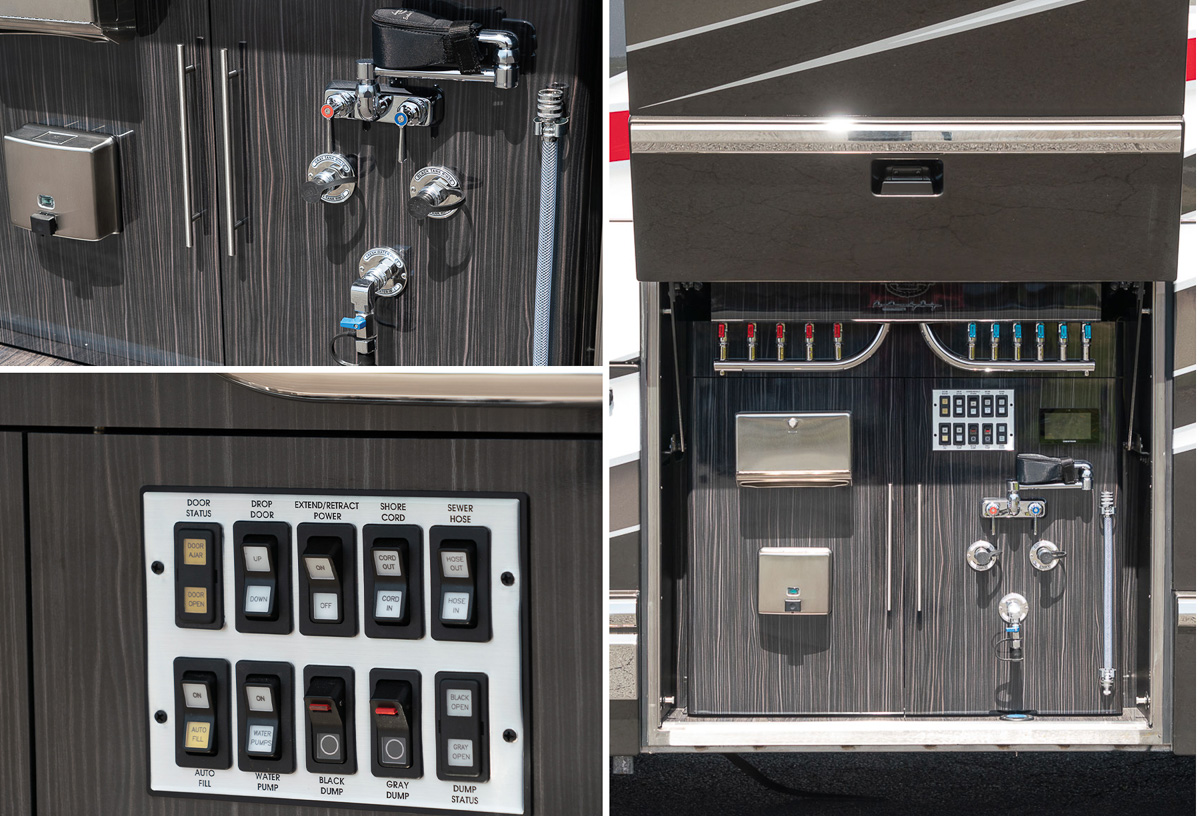 "The idea came from Bob Schoellhorn, who asked if we could come up with a new way or new system that would make the worst task of owning an RV more palatable," said Director of Engineering and Production Mark Bryan.
Another benefit to this system, patented on August 19, 2003, is that it eliminates the need to bend down under the motorcoach or otherwise manually extend or retract the waste hose. And, although many other systems provide telescoping attributes, they still require a substantial amount of effort on the part of the user to discharge the sewage. Marathon Coach clients are encouraged to make their process even simpler by following black water drainage with gray water drainage, so everything is clean and ready to go. As simple as that.
---
Freedom Plus Step-by-Step:
Step 1: At your destination, press the button to lower the drop door, which exposes your shore cord and sewer hose.
Step 2: Turn the power "on" for the mechanism that operates both of these systems.
Step 3: Extend the shore cord and plug it into the receptacle.
Step 4: Press the button to extend the sewer hose, then lift it off the ground and pull it to the desired length and plug it into the receptacle.
* When you're finished and want to leave, operate the switches in the reverse order.
---
See the video about the Freedom Plus system here:
---