The New X3 Model: Powerful Engineering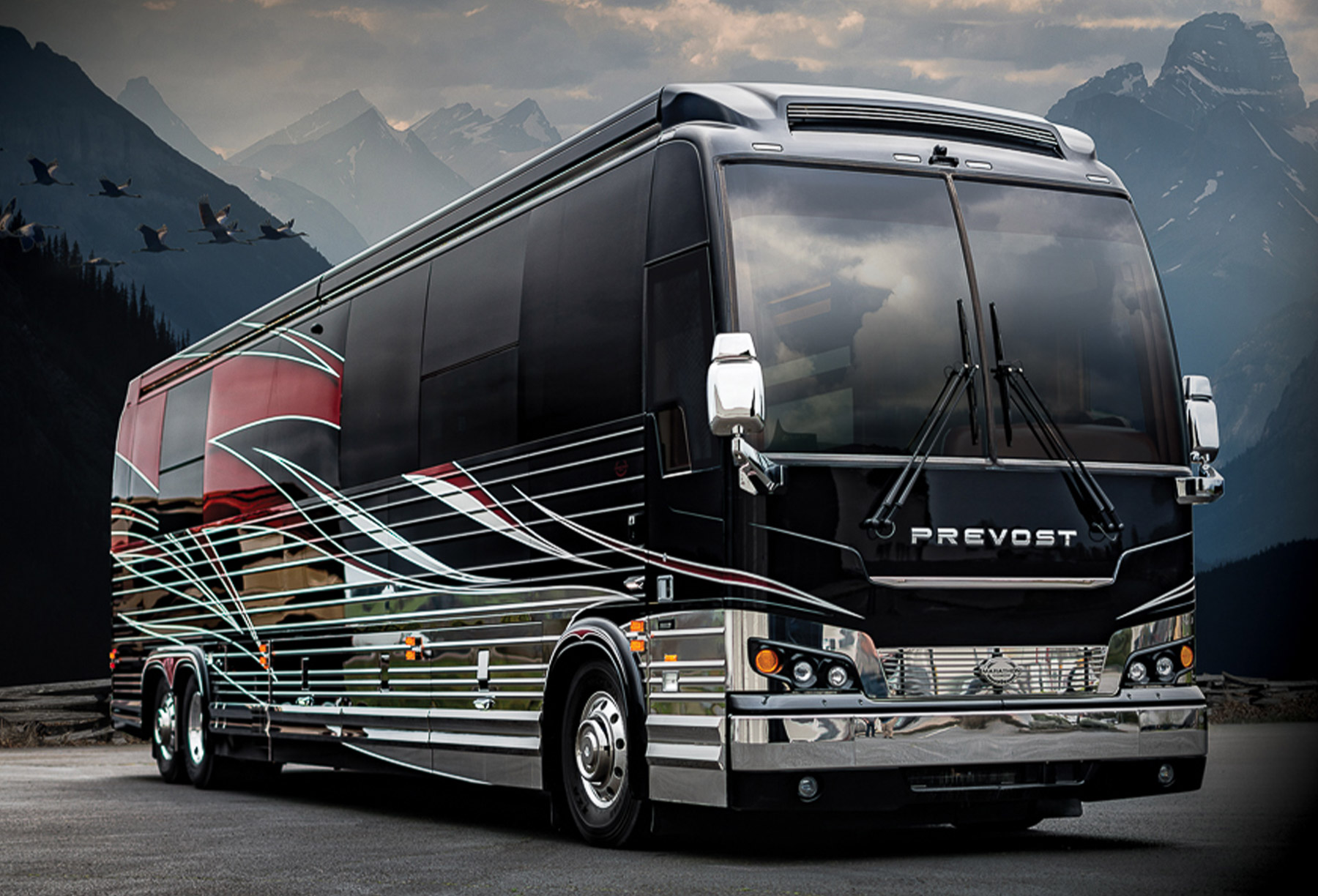 The first in the industry to feature Prevost's new X3 chassis, Marathon Coach continues to drive the industry with no end in sight. Debuted in February at the Prevost Motorhome Expo in West Palm Beach, Florida, Marathon Coach #1317 created quite the buzz. The new X3 has proved popular not only because of the increased height and contemporary look, but also because of its improved architecture with increased structure rigidity and safety, enhanced interior feel due to updated side windows and increased fuel efficiency of 8-10% due to its updated aerodynamic design.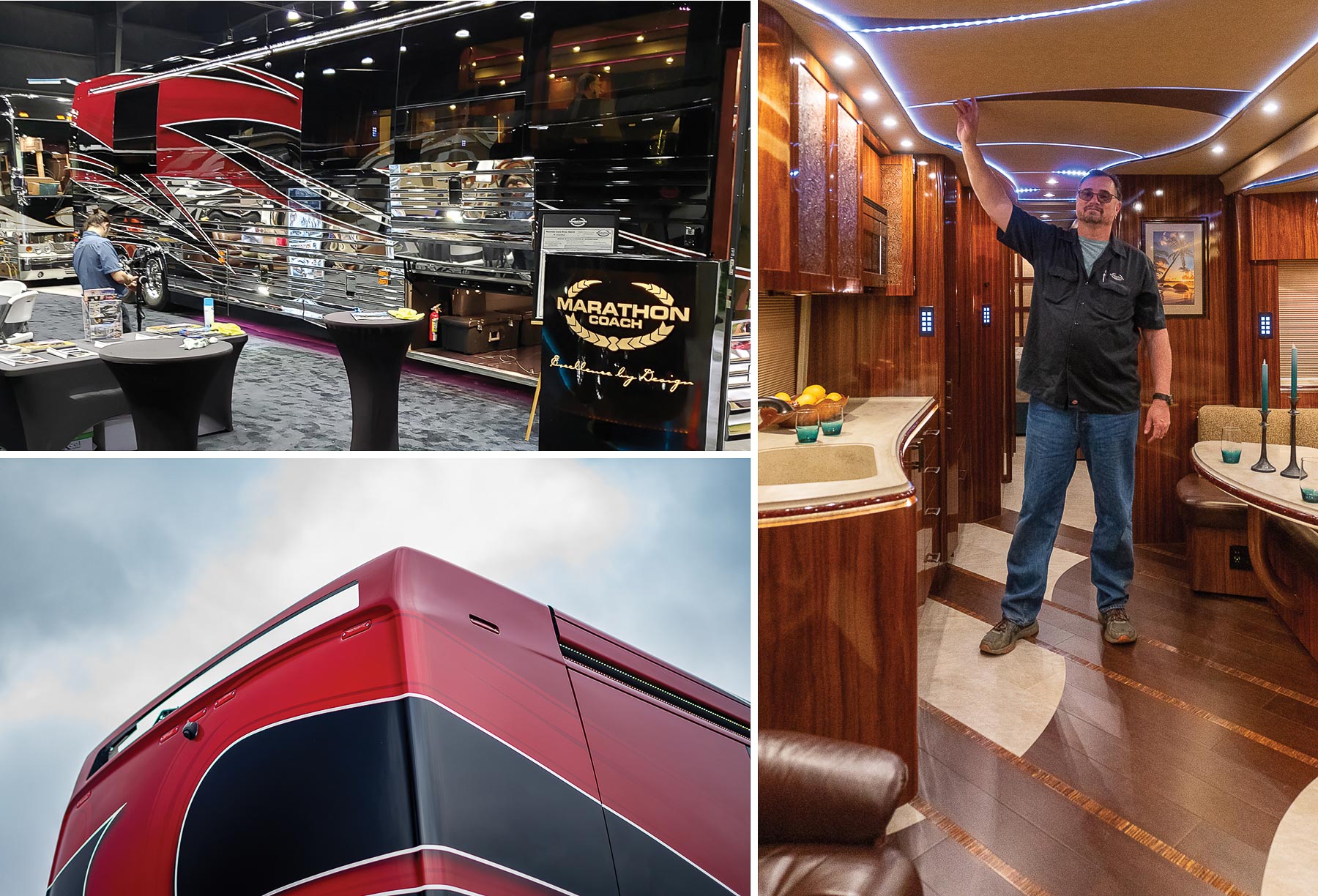 "We've found so much value in this updated X3, we've not slowed down, but instead have continued to innovate to show the true capabilities of this chassis," said President and Owner Steve Schoellhorn. "You can expect us to continue to push those boundaries of what can be done with space, technology, features, décor and overall design. It's an exciting time to be in this position and to pioneer what's possible."
Led by Engineering Manager Jay Graham, the Marathon team developed and refined the recent Prevost innovations in Marathon's newest bath-and-a-half floorplan. Show Coaches #1317, #1324, #1325 and #1330 all feature more spacious and open salon and galley areas – midship art doors hide the guest half baths as well as extend the look of the area. Plus, the redesigned rear closet provides more storage and hanging space, while also featuring a table top for folding laundry or organizing belongings. The wardrobe's three-panel exposed pocket door glides open to the standard 24 inches, but also hinges to increase the opening to 36 inches, making laundry and stored items easily accessible. In addition, each coach features a 360° camera system, slide room roof camera system, fireplace in the salon end table, multiple 55-inch televisions, rainfall shower, standard king bed and Marathon's patented TechLink and Freedom Plus systems.
"Marathon redesigned the front and rear roof awning caps to more closely align with the new X3 body style and give it a more contemporary look," said Engineering Manager Jay Graham.
Sleek and modern, the body of the X3 is now more aerodynamically advanced than ever before. Additional updates of the new Prevost X3 chassis include overall increased interior height, a newly designed grill, new front door panel, improved driver's view and extra cosmetic stainless on the front cap.
"Because Prevost eliminated the rounded corners along the roofline and made them 'arc to arc,' much like an H3, we were able to raise our finished ceilings an additional half inch for a total ceiling height increase of 3 inches over the previous X3 model – we begin with an incredible 91.5 inches unfinished floor to roof beams," said Schoellhorn. "This increased ceiling height – combined with wider windows – results in additional exposed height and interior space at eye level. If you get the chance, check out one of the upcoming Marathon X3s."
Other crowd favorites include improved driver's front and side views with reduced blind spots, a refined cockpit area and highly effective gutter system.
---
See video of the New Prevost X3-45 with Mal, Randy and Dawn:
---